Have an Amazing Time at The Chingay Parade Festival, Singapore
Chingay Parade is one of the most spectacular ways in which Singapore exhibits its unity in diversity. Chingay Parade is an annual street parade held in Singapore, known for its vibrant and colourful floats, costumes, and performances. The parade is considered to be one of the largest street parades in Asia and has become an important cultural event in Singapore's calendar.
The high point of this festival is lots and lots of glittering lights. The Chingay Parade Festival Singapore celebrates the Chinese New Year. This festival began in 1973, and today, it successfully captivates people across all cultures, nations, ethnicities, and ages. The original festival has changed a lot, and now many complimentary events have been added to it to make it more spectacular. Let us check out the amazingly colorful and exuberant festivities we call the Chingay Festival.
The Opulent History of the Chingay Parade Festival, Singapore
The history of the Chingay Parade dates back to 1973 when it was first organized by the People's Association as a small-scale community event. The parade was initially held in the ethnic enclaves of Singapore, such as Little India and Chinatown, and was intended to promote racial harmony and social cohesion among the different ethnic groups in Singapore. Over the years, the parade has grown in size and scale, and today it is a major event that attracts thousands of participants and spectators from all over Singapore and the region. Whether you're a first-time visitor or a returning fan, the Chingay Parade is a must-see spectacle that promises to leave you in awe.
The significance of the Chingay Parade is rooted in its ability to bring people from different backgrounds and cultures together. The parade showcases the diversity and richness of Singapore's cultural heritage and promotes a sense of national identity and pride

Theme-Based Chingay Parade
Every year, the festival is based on a new theme. Once, this festival was a time-honoured tradition that has now turned into a high-tech demonstration. Irrespective of the year's theme, people wait for the grand finale with excitement. Watching this fabulous show is nothing but a complete visual and auditory treat. Impressive fireworks dotting the Singapore skyscape, beautiful light effects, shimmering and glittering colors, and lights of joy and vibrancy. There are very high expectations from this festival, and people look for lively, bright, and loads of fun "do" with unique cultural charm, thus make prior reservations to avoid cancellations.
What to Expect in the Chingay Parade 2023 ?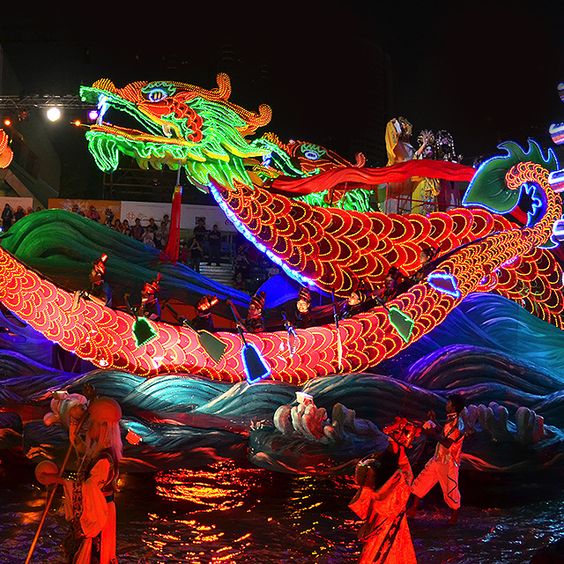 The Chingay Parade, Singapore's largest community arts showcase, is set to return in 2023 after a two-year break. The event will take place on February 3rd and 4th and will be held physically in front of a live audience of 28,000 at the F1 Pit Building. This year's parade will involve over 10,000 residents, artists, and arts groups, including more than 3,000 performers. Tickets are now available for those who wish to see the parade live.
In addition to the main parade, the Chingay Arts Installations will be held from February 5th to 9th at the F1 Pit Building, allowing visitors to see the iconic floats and other installations in all their glory. The themes of the Chingay Parade have varied in the past, focusing on different cultural and social issues. For example, previous themes have included "Riding the Wave of Progress", "Colours of Unity", and "A Symphony of Cultures". The view of exciting and awe-inspiring art installations is a breath-taking experience for the spectators.
The live parade will also be streamed on Facebook and YouTube, so you won't miss any of the action.
Other Events in the Chingay Parade Festival, Singapore 2023
The Chingay Carnival is an integral part of the Chingay Parade and is held alongside the parade. The carnival features a variety of games, activities, and food stalls that provide entertainment for the whole family. Visitors can enjoy a range of traditional and contemporary performances, including lion and dragon dances, martial arts demonstrations, and cultural dances.
Do not miss out on attending the final day extravaganza when the F1 racetrack is completely transformed into a whimsical wonderland, a vast adventure playground, and a lot more to look forward to. Some of the other events include –
The fantabulous Night Fiesta on the Orchard Road will leave a lot of unforgettable memories to be cherished forever.
The parade's visuals float with participants in intricate costumes, crisscrossing the neighbourhoods and allow spectators to catch a glimpse of this festival.
In different areas of the Lion City, numerous cultural performances take place.
People can engage in many fun-filled activities like go-karting, Jenga, family-friendly games and activities, and more.
The Chingay carnival also features a range of interactive activities and workshops that allow visitors to learn more about the different cultures represented in the parade.
When planning a visit to Singapore, try to choose the dates when the Chingay Parade Festival will be organized. This way, you will get a chance to check out this lovely festival and see Singapore in all its glory. You will also get a lot of Insta-worthy clicks to share with your friends and family.

Final Thoughts
Chingay Parade is a truly unique and exciting event that is not to be missed. With its dazzling displays, vibrant performances, and endless entertainment, it's no wonder that it has become one of Singapore's most beloved and enduring traditions. So, gather your friends and family, and come and experience the magic of Chingay for yourself. To make your Chingay experience more comfortable and hassle-free, book Singapore bus tickets online in advance with a reliable bus service like redBus.
The redBus service is a popular mode of transportation for both locals and tourists in Singapore. The buses run frequently and have a relatively low-cost fare making them accessible to many. To read more about places to visit in Singapore and Malaysia, and services offered by redBus, download the app or check our website.