Thaipusam Celebrations in Singapore
Thaipusam 2023 will be celebrated on the 5th February. From the Sri Srinivasa Perumal Temple on Serangoon Road, the traditional path for Kavadi-bearers and their supporters on Thaipusam travels through the city's heart to the Sri Thendayuthapani Temple at Tank Road. It generally lasts for two days. Thaipusam was celebrated for the last two years without traditional foot possession, but now all the devotees can finally visit the temple. Thaipusam is celebrated in India, Sri Lanka, Thailand, and a few other countries and regions. A very grand version of Thaipusam celebrations is held in Batu Caves in Malaysia.
Story of Thaipusam
Thaipusam is a two-day festival in Singapore and Malaysia that honours Lord Murugan, the Hindu God of War. Lord Murugan symbolizes eternal youth, strength, and good behaviour. Singaporeans celebrate Thaipusam with early morning prayers, self-control, austerity, processions, and body piercings on the full moon of the month of Thai on the Tamil calendar.
Thaipusam festival celebrations are primarily enjoyed by Tamil Hindus. But those who do not fall under this spectrum also join the parade. This is especially true about Singapore because of how many different kinds of people live there.
Since ancient times, Kavadi rituals have been done. They all come from the same Puranic story about a follower of Lord Murugan who carried two hills on his shoulders. Then, the Lord said whoever carried an object like the two hills on a pole would receive everything they wanted.
Thaipusam Celebrations 2023
Day 1 of the Thaipusam Festival 2023 – Chariot Procession
On the first day of the Thaipusam festival, also known as the eve, a chariot procession begins at the Sri Thendayuthapani Temple on Tank Road. The temple is dedicated to Lord Murugan and features 48 intricately etched glass panels. The chariot carries Lord Murugan to visit his brother Lord Vinayagar at the Layan Sithi Vinayagar Temple on Keong Saik Road. Along the way, the chariot stops at various locations, including the Sri Mariamman temple on South Bridge Road (the oldest Hindu temple in Singapore, dating back to 1827) where Lord Murugan greets the goddess within, a manifestation of his mother, before continuing on to visit his brother.
D Day Thaipusam 2023
The Thaipusam festival begins in the early hours of the morning, just after midnight, with prayers in Little India as a preparation for a 4.5-kilometer long, colorful procession through Singapore. The route of the procession starts from Sri Srinivasa Perumal Temple on Serangoon Road in Little India and ends at Sri Thendayuthapani Temple on Tank Road, near Fort Canning.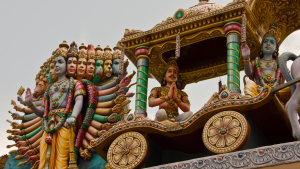 The procession marks the end of a 48-day period of spiritual preparation and strict vegetarian diet for devotees, which includes celibacy.
After the prayers, which include a head-shaving ritual, the first group of devotees bring pots of milk, which are carried on their heads by worshippers, including women and children. The milk symbolizes fertility and abundance and is poured over the statue of Lord Murugan at Sri Thendayuthapani Temple as an act of offering and worship.
Kavadi Thaipusam 2023
The Kavadi Thaipusam has become the most well-known symbol of Thaipusam celebrations. Flowers and peacock (symbols of Murugan) feathers are just the beginning of how these structures will look. It can hold up to 30 kilograms and is 4 meters tall. Despite what it looks like, most people who carry the Kavadi during the ceremony say they feel calm and even go into a trance-like state. It is made possible by groups of traditional drummers who play live music called Urumi Melam.
Also, the person who carries it is celibate and only eats one Satvik meal daily, which are vegetarian dishes that don't smell good. This happens 48 hours before Thaipusam, a festival supposed to clean the body and soul. Participating people will walk four kilometres while their family and friends sing hymns and pray for them.
But not everyone who walks in the parade has to have the Kavadi Thaipusam pierce their skin. If the wooden structures didn't have spikes, they might be easier for some people to move. Women and children under 16 are seen bringing Lord Murugan gifts of milk in pots.
How to Get to the Batu Caves Thaipusam Celebrations?
The Thaipusam Festival is celebrated every year in the Batu caves, which are close to Kuala Lumpur, the capital of Malaysia. Millions of followers and tourists from throughout Asia congregate for a frantic festival that includes extensive body piercings with needles, hooks, and spears and a procession where followers carry kavadis, or physical burdens, as an offering to their god.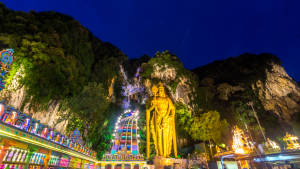 A well-travelled bus route between Singapore and Malaysia runs from Singapore (SG) to Kuala Lumpur (KL) in 3 hours and 52 minutes. To travel 354 kilometres between Singapore and Kuala Lumpur for Thaipusam celebrations in Malaysia, taking a bus to KL is a fairly practical means of transportation. redBus provides more than 100 bus services each day  and you can book bus tickets online.
You can choose a coach bus, express bus, or luxury bus to make your bus reservations.
You can choose from several bus companies to book online tickets for bus from SG to KL with ease. Some of the popular bus operators include-
Supernice Grassland
Five Stars Travel
Not just that, with redBus, you can avail of exciting discounts and cashback when you book Singapore bus tickets to any destination.
Conclusion
For many followers, Thaipusam is the end of a month of spiritual preparation, during which they eat only vegetarian food. A common belief is that a devotee must first rid their mind of all thoughts of making money and free their body of all desires for sensual pleasures to perform the holy ritual without feeling any pain.
Singapore has one of the world's largest populations of people who have a Thaipusam Significance. So, the annual celebration is a big deal. Hindu Tamils are very proud of their history and traditions and elucidating others about them. If you are in Singapore during this time, you must go out and witness the grand Thaipusam 2023 celebrations.