Shopping Paradise Welcomes You: It's Singapore!
That's one slogan Singapore should definitely take for itself. Singapore is a front-runner for the title of best shopping destination in the world. Comprising a number of unique districts dotted with malls, Singapore boasts of having the most number of shopping centers in the whole of Asia. The primary advantage of these shopping malls in Singapore is that they not only provide the best quality of buy able items, but also serve as a center for entertainment. Best part is, that you can shuttle easily to visit all these places conveniently by boarding a bus.
On Orchard Road, one can stroll along this long stretch that passes by many a quality fashion retailer store, or indulge in some tasty Singaporean treats. The main treat awaits at the end of the road—the architectural marvel that is the ION Orchard where the aspiring fashionistas dwell.
VivoCity at Sentosa Harbour Front is a luxury retail haven (home to the Armanis and Guccis of the world) and also houses the small State's largest cinema as well as its largest toy store. VivoCity is the biggest shopping mall well poised in Singapore, and in a country bursting to the seams with the things. Actively running true to its 'lifestyle center' marketing tag, VivoCity comprises of fifteen cinema screens, a rooftop amphitheater, an open-air playground, an art gallery and a plethora of restaurants and bars.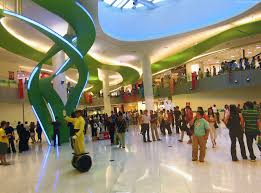 The Shoppes at Marina Bay Sands is also an exciting option, offering you a chance to pick from a number of malls just a short walking distance away from each other.
Those who doesn't like the idea of these giant indoor shopping arenas need not worry; some of the top places to shop in Singapore come in the form of outdoor shopping locations, bustling roads and clusters of quaint boutiques. Both Chinatown and Little India are great shopping locations in their own right, and the vast Bugis Street Market is a fun and friendly shopping experience not to be missed either.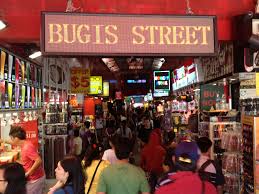 Looking for a shopping experience that feels a million miles away from Singapore's multitude of malls, simply head to the haven that is called Haji Lane. The not too broad road is scattered with lovely vintage stores and boutiques, quickly recognizable with its vibrant wall paintings – delivering as much a photo shoot place as to come for shopping.
Usually for many, Clarke Quay is a place to where one comes to wine and dine together being located in one of its many impressive waterfront restaurants, or just take a comfy stroll across the vibrant avenues which are bubbling with colour and night time activities. In the midst of all the fun, there's a great range of boutique stores and fashion outlets lined up that could be enjoyed as well. Just remember that Clarke Quay brags of its decent share of malls too; Central, Riverside Point and Great World City which are well spotted in proximity.
Happy Singapore Shopping!