Water Sports in Singapore: Dedicated to All Water Lovers
You'd rather be swimming in water than walking on land. Yes, we recognize you as a water baby. And for you, water sports are the next best thing after swimming. Whether you're a learner or an expert sea sports enthusiast, here's a list of activities that will get you wet and wild while you soak in the sun. Once you get ready to take the fun of these water sports in Singapore. Catch an express bus to let the tiredness wear off and hit the sea again. Book your tickets online for added convenience.
Rest assured that if you are on a holiday in Singapore, you definitely won't run short of these. Choose your pick from the four water sports below and have a splashing good time!
Jetlev (Water-Propelled Jet pack): A water-propelled jet pack is connected to a small motorboat that is equipped with a massive water pump to keep you airborne. All you need to do is strap the jet pack on your back, pay careful instruction provided by the certified instructors and then, up, up, away you go!
Kayaking: All the fun of rowing your way away from the hustle-bustle of main town Singapore and the benefits of an upper body workout too—kayaking is best enjoyed solo since the boat usually seats one. Tandem kayaks can accommodate a couple of more people.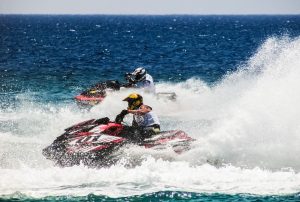 Wake-boarding: Rent yourself a board, let a certified instructor tell you just how you are supposed to skim the surface of the water in this adrenaline-filled sport, and you will be ready to try the 'Superman on water' trick.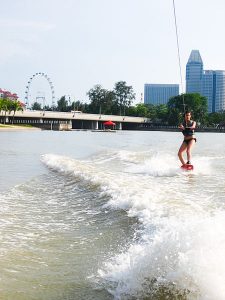 Jet Skiing: Ride the waves atop this watercraft, either by yourself, or if you aren't too sure you can manoeuvre the jet-ski alone, you can always opt to ride pillion.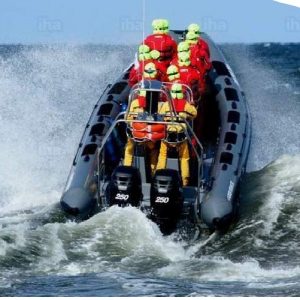 Swim: An enthusiastic swim as a way of relaxing, Singapore's water bodies offers long hours of enjoyment for the whole family.
With great prudence and intricate planning, Singapore, a tropical island surrounded by tranquil sparkling seas, also boasts of vibrant water sports scene. You shall completely enjoy the company of your loved ones and have fun in the sun, sand and surf  in the many waterfront parks dotted around the island fringes.
Where to do Water Activities?
Paddle Lodge: Be prepared to flex some muscles: paddlers are expected to carry their own canoes from the storage room in Paddle Lodge down to the waters.
Singapore Wake Park: Here in this dashing Singapore Wake Park, you can wakeboard right on this island.  All equipment, such as kneeboards, wakeboards, helmets and vests, are provided here.
Marina Bay: Cruise down Marina Bay as skyscrapers loom in the background with the Marina Bay Sailing programme, a project by the Singapore Sailing Federation to bring sailing into the heart of the city.
Plan your visit for all of these exciting places and spent wonderful time with your loved ones. Let the waters speak!