Travelling By Bintan Resort Ferries – All You Need to Know
The island of Bintan in the Riau has a shoreline of around 105 km. It is a beautiful place unlike any other. This is also due to its easy accessibility to nearby lands like Malaysia and Singapore. Several ferry operators such as Bintan Resort Ferries provide ferry services to and from the Bintan islands. 
Besides being rich in natural scenery, Bintan is known for recreational activities such as snorkelling, canoeing, jet-skiing, windsurfing, fishing, golfing, sailing, island-hopping, diving, and shopping. Sunbathers can take a relaxing walk along the beaches' pristine sands and enjoy the warm weather. Bintan Island, a ferry trip from Singapore, provides a convenient haven from the city's bustle. With its extensive selection of sights and activities, this tropical paradise will satisfy all your requirements for a fun and rejuvenating vacation. 
Things To Do In Bintan Islands
With its extensive selection of sights and activities, this tropical paradise will satisfy all your requirements for a fun and rejuvenating vacation. 
Taste the local food and fresh seafood – Enjoy the distinctive flavours of regional cuisines made with Indonesian flavours and traditional regional desserts that will hook you. In Bintan, an island with a large population of fishermen, you can frequently find seafood and other fried seafood.

Engulf in land and water activities – You can keep busy with land and water activities. The things to do will be just outside your door when you stay at a Bintan resort because the resort has its collection of land and water activities within the resort property.

Embrace nature and beaches – In Safari Lagoi, you can see rescued and endangered animals, and on a Bintan Eco-Tour, you can see how crops are planted and harvested. Snorkelling and diving are great ways to experience Bintan's stunning marine life. The island beaches provide a breathtaking picture of the clean, colossal sea, beautiful white sand, and blue sky. 

Visit temples – While visiting Bintan, you can pray at one of the many temples on the island. Senggarang Village has a Banyan Tree Temple that is 200 years old. You can also go to the Avalokitesvara Temple, home to one of the tallest Guan Yin statues in South East Asia. You will be welcomed by the spectacular, life-sized 500 Lohan statue at the 500 Lohan Temple, constructed by Chinese architecture. 
You might be interested in Diving in Bintan 
Travelling to Bintan via Bintan Resort Ferries 
The ferry service between Singapore's Tanah Merah and Indonesia's Bintan Island is run by Bintan Resort Ferries. In 1994, Bintan Resort Ferries Ltd started operating in the HarbourFront. In late August 1995, operations were moved to Tanah Merah Ferry Terminal. It takes an hour to travel to Bintan on each trip. Bintan Resort ships operate four catamaran ships.
Since the services are accessible daily, individuals may take a boat to Bintan and return on any given day. However, the timing for every day, weekend, and weekday may vary. 
Bintan Resort Ferries – Emerald Class
On all ferries, 57 seats are exclusively for the "Emerald Class." Luxury class travellers can skip the immigration line upon arrival in Bintan by delegating the task to highly trained staff. Some of the facilities provided in the Emerald class Bintan Resort Ferries are – 
Priority Free baggage handling upon arrival 

Cold and Hot Beverages as complimentary drinks

Accessibility of the Emerald Lounge both on arrival and departure

Specialised and Quick Immigration Clearance

Priority Disembarkation & Boarding
Bintan Resort Ferries Schedule
The Bintan Resort Ferries offer a round trip from Singapore to the Bintan Islands. Ferry schedule are largely dependant on weather conditions and it is best to keep a track on the schedule. 
Here are the ferry timings according to the days of the week –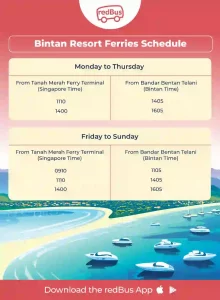 Wrapping it Up
With several options available to book ferry tickets online such as redBus, your island vacation planning with Bintan Resort Ferries is as easy as a breeze. Make sure to use coupon codes to get discounts and cashback on booking ferry tickets from Singapore to Bintan!