5 Top Shopping Places in Clarke Quay and Riverside, Singapore
The list of five amazing shopping places includes most famous malls, off-the-beaten fashion boutiques and independent arts and crafts shops in Clarke Quay and Riverside area. Quickly take a bus to Singapore and fulfill your shopping demands. Buses are one of the convenient modes of travel and helps to save money too. Create memories on-the-go!
The Clarke Quay and Riverside area is one of the most visited tourist spots in the whole of the city – and for good reason. After nightfall, the city's lights reflect magnificently in the picturesque series of quays, creating a perfect spot for some dining and late night shopping. Although the area is more famed for its huge selection of restaurants, bars and clubs, there are plenty of malls and boutiques to keep ardent of shoppers happy.
Let's take a look at those happening shopping places, that's sure to satisfy your 'buy' list :
Central@ Clarke Quay
This is a modernized shopping mall situated in central Clarke Quay. In fact, it's accessible to the mall directly from the metro station, it's not only a popular mall in the area, but also the most convenient. The selection of shopping options isn't as widespread as the mega malls of Orchard Road, but Central is definitely worth a visit if you fancy some mall browsing alongside a sturdy choice of riverside dining options.
This place is home to some lip smacking Japanese, European and seafood restaurants which hug the water's edge.
Riverside Point
The dazzling red sign radiantly lit up during the night over the water's edge, mesmerizing indeed! Riverside Point is really a hard to miss. The shopping center is home to several independent stores as well as some outlets selling everything from clothes, accessories, home ware and souvenirs. The central atrium opens up allowing light to flood inside in the daytime, during night a variety of street performers entertain the crowds who flock here to shop and eat.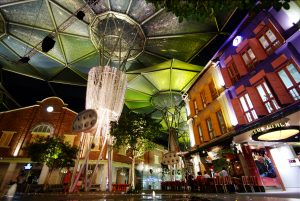 Royal Selangor
This store is situated at Clarke Quay that boasts of a  great array of handmade pewter, which mostly come in the form of tableware, including teapots, plates, and cutlery. Pewter is a tin-based alloy metal, and these techniques of production. Today, Royal Selangor joined hands with over 20 countries across the world in the making of metal.
Fiftyfive Tailor
This plush little tailor can be found just off Boat Quay, and delivers towards high-end men's fashion. If you're searching for some dapper fitting shirts, gorgeous handmade leather shoes, or just want to add a classy accessory to your wardrobe, such as a new tie or some fancy cuff-links, then Fiftyfive is a great spot on – as long as you have cash to splash.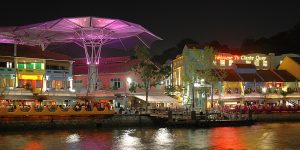 Street Stalls @Clarke Quay
Crossing over the bridge from Riverside Point to Clarke Quay and one will easily find a lively lifestyle center of restaurants, wine bars, amusement spots and retail outlets. Immerse yourself in the bustling market atmosphere of the old days as you saunter through quaint shop houses, pushcarts, and five-foot-way merchants. Keep sighting around the pushcarts selling alluring pottery, jewellery, woodcrafts and other stuff. Although it's better known for its dining and entertainment outlets, it's worth a visit for its vibrant and festive atmosphere, real treat to eyes!